TrafficTracker is an Internet Gateway Billing application that will keep track of users internet usage, as well as providing a secure login to registered users.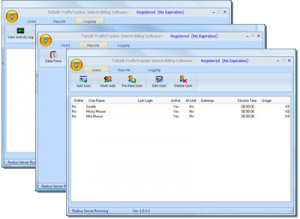 With an easy to use interface, TrafficTracker makes managing user access to the internet easy and simple to operate.
TrafficTracker lets you set user limits, and will automatically deactivate the user when the users limit has been reached to prevent the user from accessing the internet.
The limits can be set by traffic usage, or by time. Users can easily be re-activated with the original limits applied.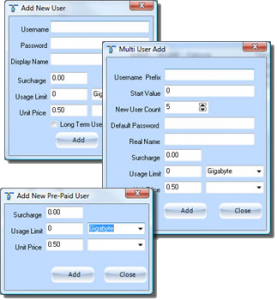 FEATURES
Web interface for clients to check their own internet usage from their own computer
Automatic disconnection when limits reached
Simple to use
Easy to install
Integration with RoomTracker
Traffic Tracker Integration Features
Use with RoomTracker or operate standalone
Auto disconnect users bases on data used or time online
Monitor users online in real time
Ability for guests to check their account while online from there room
Manages Remote Locations from your main office
TrafficTracker gives you the ability to not only specify your own costs and surcharges, but also lets you override these values for a specific user if required.
TrafficTracker also has the functionality to edit and print out simple instructions for users to follow when they connect to your network. The instructions also include the users username and password for them to reference at any time.
There are various reports and charts that let you get information on current and past users.