CallTracker receives telephone call data live from a PABX Telephone System as soon as the phone call is completed, at which point the data is processed and stored in to a database for immediate retrieval or for retrieval at a later date using our CallTracker Client Reporting Program.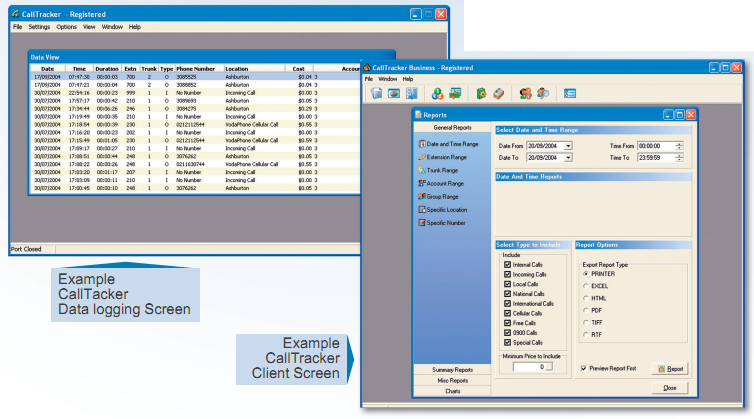 All versions of CallTracker are also fully net-workable, so that this data can be extracted via reports or charts from any PC on your local network.
CallTracker is designed to capture data from a PABX which outputs its data via a Comport or TCP/IP on a local or remote network.
Most Telephone Call Accounting packages can require a lot maintenance when pricing structures change from your toll call supplier, this alone means that you have to subscribe to an annual pricing update service which can cost up to $400.00 annually.
CallTracker is unique in that it lets YOU take control of your pricing by letting YOU alter the pricing structure, with the ability to reprocess past telephone call data if required. This feature alone will save you time and money.
CallTracker Data Collection Program
Live Data Capture
Price Editing
Multiple Pricing Plans
Extension Editing
Alarms Notifications
Number Mapping
Peak Time Editing
Account Editing
Trunk Editing
Group Editing
Users Editing
Multi-Site Capable
Re-Pricing Functionality
Automatic Emailing of Reports Incoming Call Pricing
MYOB Accounts Office/Enterprise Interface
CTClient Report Program
Date/time Reports
Extension Reports
Account Reports
Trunk Reports
Group Report
Specific Location Report
Specific Number Report
Extension Summary Report
Account Summary Report
Trunk Summary Report
Group Summary Report
Various Charts
Trunk Usage
Minimum Price Filtering
Assign Account Numbers
Account Lookup
Last Call Lookup
Call Price Lookup
Reports Exporting, CSV, Excell, Word, PDF
Auto Emailing of Reports